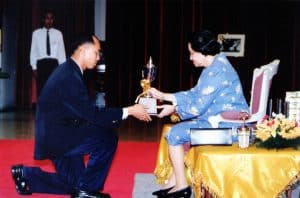 The Thailand International Photographers Society (TIPS) has been established to be a central
resource tool for members, both in Thailand and abroad through photographic activities following slogan "Your Picture can Change the world"
As the Photography is a form of media that can simultaneously express both knowledge and art. They will be used as art forms plus digital technology to help convey members' special attributes to the world. The photography can better help on public Relation. And beside our activities are helping relieve social.
TIPS founded in 2008 by Mr. Gett Sutprattana who has been working on travel and photography for over 30 years. He has awarded The Grand Prize on Environment program from her Royal Highness Sirinthorn 1998, two prizes from ISP USA, Standing out of Photographer 2008 and Merit award in 2008 and over 100 photography prizes awarded winning. From his experiences travel and photography around the world made him fallen in love in passion of photographic art that is the bridge to meet friends and helping the world through the word "Photography"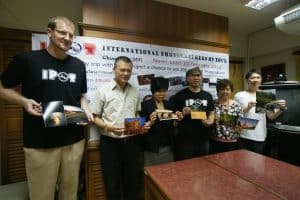 Project and Activities
TIPS involve to many projects helping public relation though our 50,000 Members. We are a central connecting to our members' photographers, organization, group, clubs, association and individual. Photographic activities are the bridge to help social that is our goal.
• 60 Days around Thailand
• 7 days in Chiang Mai and Songkran Festival Photo Contest
• "Loy Krathong Festival Photo contest" by TAT Chiang Mai
• Youth Photo Camp (1-2) 2011
• Monthly Photo Contest 2011
• Gullayaniwattana District Photo Gallery
• Pai Photography Workshop
• Thailand photo Gallery in Munich, Germany
• Monthly activities is TIPS plan to organize for our members and more
• Annual photography workshop Chiang Mai – Luangpabang 4-10 November 2011
Workshop is our monthly operations to help improving photographic skill for our members both in Thailand and abroad.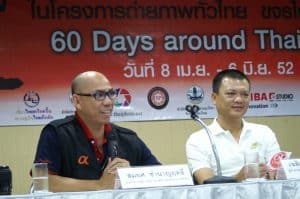 Prospective
1.) Young people and amateurs with an interest in exploring photography.
2.) Professional photographers and videographers (both Thai and international).
3.) Organizations, school, companies and groups
Objectives
1.) To help preserve the art and culture of members country through activities.
2.) To further develop travel and tourism industries.
3.) To establish itself as a learning center, to encourage and assist members in developing their skills at an international level.
4.) To assist all members with any logistical needs they may have while traveling in around the world.
Outcomes
1.) The preservation of members' country art and culture.
2.) The further advancement of travel and tourism industries.
3.) The encouragement of local members to expand their horizons beyond Thailand by developing their skills to be on par with the international community.
4.) The positive presentation of members' country through activities.
Benefits
1.) Assistance with participating in various international photo contests.
2.) Join classes, courses, seminars and photography tours.
3.) Discounted prices on services and merchandise offered by participating organizations and companies (from supported TIPS members).
4.) Option to participate in monthly TIPS contests.
5.) Monthly e-newsletter detailing upcoming TIPS events and activities
6.) Special price for joining all activities.